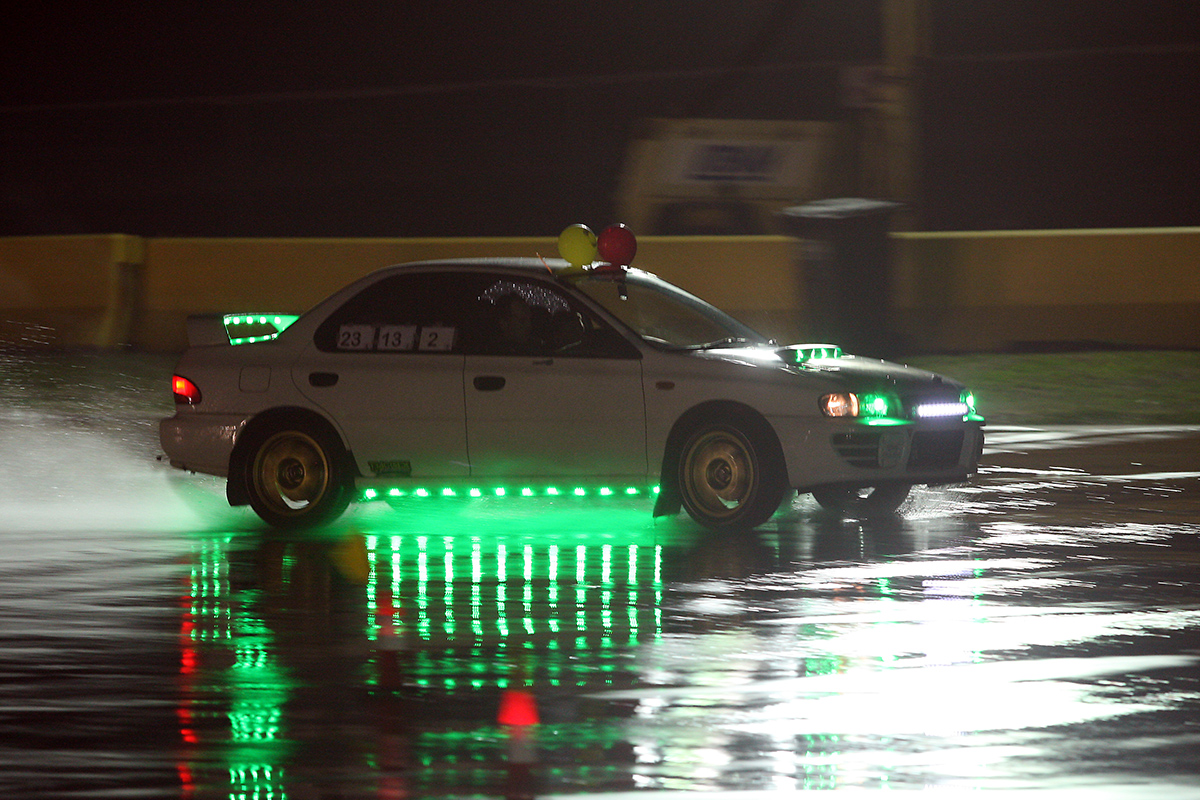 Hi all,
This event has been run and won – results below. Congratulations to all who competed, the day ran smoothly and we saw many smiles.
The results are below:
Cheers,
Neil.
This is the promised details for our first event for 2019, and our first event using the CAMS Online Entering System. At first it may seem a bit different but it will make all of our lives easier moving forward, and take the strain off people administering the event both beforehand and on the day.
The event itself is a skidpan motorkhana, with scrutineering beginning around 8:15, and driver's briefing at 9:15, with the event set to start at around 9:30am. We look to be done sometime between 3:30pm and 4:30pm depending on entrants, conditions etc. Sydney Motorsport Park is situated on Ferrers Road, Eastern Creek, and we enter through the northernmost gate on Ferrers Road (the joint entrance with the dragway, not from Brabham Drive).
If you have done our events before you know that we aim to have family-oriented fun motorsport where people of all ages compete and enjoy cars and the people around them. This extends to our 'come and try' event components that we have at as many events during the year as possible, including this event. Unfortunately this type of entry cannot be made through the CAMS Online Entry system, so please email us at eventsecretary@caca.org.au although this will hopefully change in the near future.
The supp regs and additional regs can be found here:
Skidpan Motorkhana 219-0902-01 Supp Regs
Skidpan Motorkhana 219-0902-01 Further Regs
So, just how do you enter through the CAMS Online Event Entry system?
The message below was sent via email to all the current members by our treasurer, Les Oliver. Please let us know if you need any further information:
This system will hopefully streamline the current admin in administering an event, especially in reducing the waiting time to enter, and the handling of cash and credit cards prior to the event start.
If all runs well you will simply attend the admin desk to be marked off the list, and receive your numbers and scrutineering form. Lunch orders (where applicable) will be handled separately and paid for separately.
Please note: 1.  That this new system will not cater for 'Come and Try Entrants' at this stage – Manual handing of Come and Try will still be required…..
Please note: 2.  We will not be accommodating multiple driver entries at this stage…… Each entrant will need to log on individually and enter the event. This may well change further down the track…. 
You will need to follow the following instructions to:
Log onto your CAMS Member Portal
To Enter an event 
Logging onto the CAMS Member Portal.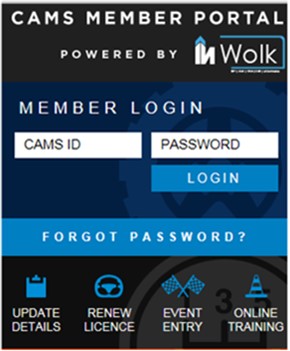 Type in your CAMS Member Number, followed by your password (if you remember it….if not click on the Forgot password and follow instructions to get your new password) then complete step 4 again.
You will then see your profile if your password was successful
On the LHS you will see the following
7: Click on 'CAMS EVENT ENTRY'
8: Click on 'Go'

And you will see the following menu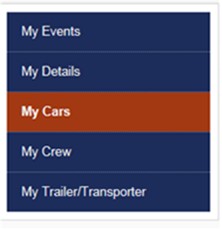 9   Go to 'My Cars', then click on 'ADD CAR', and complete the details of your car.
PLEASE NOTE: When you come to VEHICLE CLASS do not allocate a vehicle class as we will determine the class at scrutineering. (Otherwise if you use the same vehicle for Motorkhana and Khanacross events you would need to create your vehicle twice.
10. Complete as much info for the car, ensuring that under 'Transponder' your insert the 'None' response.
11. Save you vehicle record and the car should then be registered on the system, e.g.

12: Goto  My Crew. Your details will automatically be shown from CAMS records.
DO NOT ADD FURTHER DRIVERS – WE REQUEST THAT EACH DRIVER PERFORMS THAT SETUP INDIVIDUALLY
Don't add further drivers – we request that each driver performs that setup individually.
13: Goto My Details: Check the information that is populated from the CAMS records. Update if required.
14: Goto My Events: Click on 'My Events' then click on 'Enter an Event' and select the 'CACA Event that you wish to enter'
Please note:       Supp Regs and Disclaimer must be ticked by the entrant. Please                                         tick that you have read them.
15: In the STEP 2 – Select your car and driver using the dropdowns:
16: Ensure that you tick 'Adult Entry' or 'Junior Entry' as applicable.
17: Scroll to the bottom of the entry for the payment details.
18: Click on

19: Select 'Credit Card' and complete your card details.
20: The system will confirm your entry and payment.
This system will record all entrants therefore making it easier for the director and secretary to have a clearer picture as to the number of runners for the event.
Let us know if you have any issues.
Regards,
Neil Blackbourn.
(On behalf of the Christian Autosports Committee).